Surgical treatment of bone tumors using segmental bone allografts
Keywords:
malignant bone tumors, osteosarcoma, bone allograft, surgical treatment
Abstract
The aim of the study is to improve the method of surgical treatment for patients with tumors of long bones with the use of segmental bone allograft.
Material and method. The authors have improved the method of surgical treatment of patients with tumor bone lesions using segmental allografts. Step-cut osteotomy was performed to achieve the best contact between the allograft and the recipient bone, fixation was performed with intramedullar interlocking nail without the use of bone cement, and primary bone autoplasty was done to achieve better reparation. The method was clinically tested and the results of its application were studied (radiologically, morphologically). A morphological study of the contact zone between the allograft and the recipient's bone was conducted.
Results. The effectiveness of the developed method was proved. As a follow-up result among patients who underwent surgical treatment according to the developed method, the following complications were noted: ischemic necrosis of soft tissues (due to intraoperative ligation of an artery which was surrounded by a tumor) – 1 case; tumor recurrence resulting in a limb amputation – 1 patient. During the macroscopic study of a removed fragment (after amputation), the fusion between allograft and recipient bone was observed. As a result of histological and X-ray examination, bone regeneration was seen in the area of contact between the allograft and the recipient bone. The histological examination also was used to clearly visualize the removed fragment of the affected tibia, in particular the contact zone between the allograft and the recipient bone, and the bone implant material, on the outer surface and internal parts of which, the formation of new bone tissue in the form of layering of the bone trabeculae was seen. Thus, the bone tissue was formed on the surface of allogeneic bone material and sprouted into its internal parts, forming a stiff bone – implant contact.
Conclusions. Using the technique of bioreconstruction of the long bone defects allows the bone tissue of the affected limb to be preserved as much as possible, to restore the surrounding soft tissues and avoid infectious and allergic reactions in comparison with modular endoprosthetics. Fixation of the allograft and the recipient bone using step-cut osteotomy with the additional insertion of an interlocking intramedullar nail allows getting a stable «construction» and maximizing the contact zone of the bone tissue (the allograft and the recipient bone).
References
Mayle, R. E., Jr, & Paprosky, W. G. (2012). Massive bone loss: allograft-prosthetic composites and beyond. The Journal of Bone and Joint Surgery. British volume, 94-B(11 Suppl. A), 61-64. https://doi.org/10.1302/0301-620X.94B11.30791
Gharedaghi, M., Peivandi, M. T., Mazloomi, M., Shoorin, H. R., Hasani, M., Seyf, P., & Khazaee, F. (2016). Evaluation of Clinical Results and Complications of Structural Allograft Reconstruction after Bone Tumor Surgery. The Archives of Bone and Joint Surgery, 4(3), 236-242.
Calabró, T., Van Rooyen, R., Piraino, I., Pala, E., Trovarelli, G., Panagopoulos, G. N., Megaloikonomos, P. D., Angelini, A., Mavrogenis, A. F., & Ruggieri, P. (2016). Reconstruction of the proximal femur with a modular resection prosthesis. European Journal of Orthopaedic Surgery & Traumatology, 26(4), 415-421. https://doi.org/10.1007/s00590-016-1764-0
Vyrva, O. E., Golovina, Ya. A., & Malyk, R. V. (2015). Allokompozitnoe endoprotezirovanie pri khirurgicheskom lechenii patsientov so zlokachestvennymi opukholyami dlinnykh kostei (obzor literatury) [Allograft-prosthesis composite for surgical treatment in patients with malignant tumors of the long bones (review)]. Ortopediya, travmatologiya i protezirovanie, (2), 120-125. https://doi.org/10.15674/0030-598720152120-125 [in Russian].
Min, L., Tang, F., Duan, H., Zhou, Y., Zhang, W. L., Shi, R., & Tu, C. Q. (2015). Cemented allograft-prosthesis composite reconstruction for the proximal femur tumor. OncoTargets and Therapy, 8, 2261-2269. https://doi.org/10.2147/OTT.S85788
Subhadrabandhu, S., Takeuchi, A., Yamamoto, N., Shirai, T., Nishida, H., Hayashi, K., Miwa, S., & Tsuchiya, H. (2015). Frozen Autograft-Prosthesis Composite Reconstruction in Malignant Bone Tumors. Orthopedics, 38(10), e911-e918. https://doi.org/10.3928/01477447-20151002-59
Benedetti, M. G., Bonatti, E., Malfitano, C., & Donati, D. (2013). Comparison of allograft-prosthetic composite reconstruction and modular prosthetic replacement in proximal femur bone tumors: functional assessment by gait analysis in 20 patients. Acta Orthopaedica, 84(2), 218-223. https://doi.org/10.3109/17453674.2013.773119
McGoveran, B. M., Davis, A. M., Gross, A. E., & Bell, R. S. (1999). Evaluation of the allograft-prosthesis composite technique for proximal femoral reconstruction after resection of a primary bone tumour. Canadian Journal of Surgery, 42(1), 37-45.
Summers, S. H., Zachwieja, E. C., Butler, A. J., Mohile, N. V., & Pretell-Mazzini, J. (2019). Proximal Tibial Reconstruction After Tumor Resection: A Systematic Review of the Literature. JBJS Reviews, 7(7), e1. https://doi.org/10.2106/JBJS.RVW.18.00146
Donati, D., Colangeli, M., Colangeli, S., Di Bella, C., & Mercuri, M. (2008). Allograft-Prosthetic Composite in the Proximal Tibia After Bone Tumor Resection. Clinical Orthopaedics and Related Research, 466(2), 459-465. https://doi.org/10.1007/s11999-007-0055-9
Hornicek, F. J., Gebhardt, M. C., Tomford, W. W., Sorger, J. I., Zavatta, M., Menzner, J. P., & Mankin, H. J. (2001). Factors Affecting Nonunion of the Allograft-Host Junction. Clinical Orthopaedics and Related Research, 382, 87-98. https://doi.org/10.1097/00003086-200101000-00014
Miller, B. J., & Virkus, W. W. (2010). Intercalary Allograft Reconstructions Using a Compressible Intramedullary Nail: A Preliminary Report. Clinical Orthopaedics and Related Research, 468(9), 2507-2513. https://doi.org/10.1007/s11999-010-1260-5
Puerta-GarciaSandoval, P., Lizaur-Utrilla, A., Trigueros-Rentero, M. A., & Lopez-Prats, F. A. (2019). Mid- to long-term results of allograft-prosthesis composite reconstruction after removal of a distal femoral malignant tumor are comparable to those of the proximal tibia. Knee Surgery, Sports Traumatology, Arthroscopy, 27(7), 2218-2225. https://doi.org/10.1007/s00167-018-5110-4
Hu, C. C., Chen, S. Y., Chen, C. C., Chang, Y. H., Ueng, S. W., & Shih, H. N. (2017). Superior Survivorship of Cementless vs Cemented Diaphyseal Fixed Modular Rotating-Hinged Knee Megaprosthesis at 7 Years' Follow-Up. The Journal of Arthroplasty, 32(6), 1940-1945. https://doi.org/10.1016/j.arth.2016.12.026
Teunis, T., Nota, S. P., Hornicek, F. J., Schwab, J. H., & Lozano-Calderón, S. A. (2014). Outcome After Reconstruction of the Proximal Humerus for Tumor Resection: A Systematic Review. Clinical Orthopaedics and Related Research, 472(7), 2245-2253. https://doi.org/10.1007/s11999-014-3474-4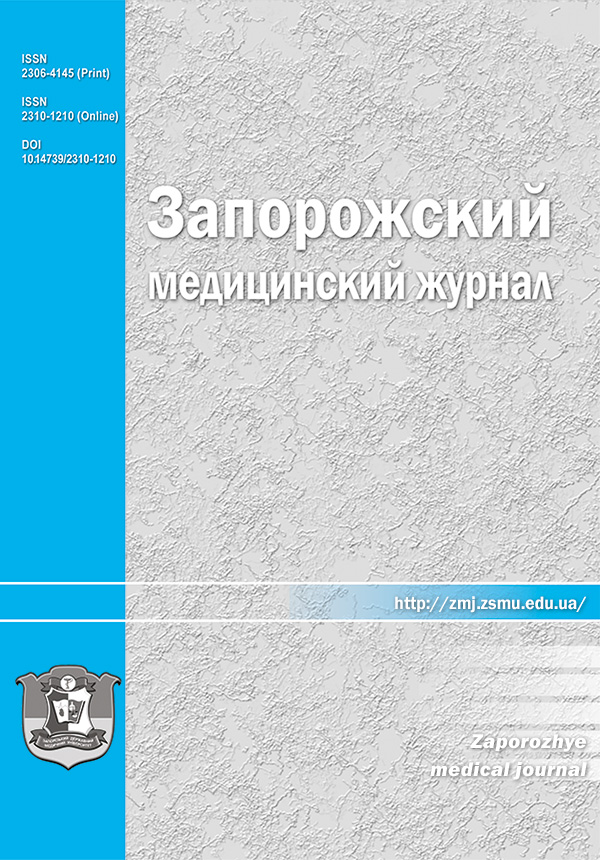 Downloads
How to Cite
Vyrva, O. Y., Holovina, Y. O., Malyk, R. V., Danishchuk, Z. M., Ashukina, N. O., & Vorontsov, P. M. (2021). Surgical treatment of bone tumors using segmental bone allografts. Zaporozhye Medical Journal, 23(1), 159–164. https://doi.org/10.14739/2310-1210.2021.1.224965
License
Authors who publish with this journal agree to the following terms:
Authors retain copyright and grant the journal right of first publication with the work simultaneously licensed under a Creative Commons Attribution License that allows others to share the work with an acknowledgement of the work's authorship and initial publication in this journal.  
Authors are able to enter into separate, additional contractual arrangements for the non-exclusive distribution of the journal's published version of the work (e.g., post it to an institutional repository or publish it in a book), with an acknowledgement of its initial publication in this journal.
Authors are permitted and encouraged to post their work online (e.g., in institutional repositories or on their website) prior to and during the submission process, as it can lead to productive exchanges, as well as earlier and greater citation of published work (See The Effect of Open Access)